classes and seminars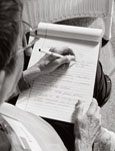 Classes, workshops, and seminars inspire you to make good on your intention to write and give you a chance to connect with other writers. Classes meet at Fairfax County schools unless otherwise noted. Contact me to ask about current offerings.
Writing about Real Life: Creative Nonfiction (CNF), Part I—Explore what makes a story compelling, and what defines it as creative nonfiction. 7 weeks @ 2.5 hours each.
Your Truth, Artfully Told: Creative Nonfiction, Part II—In this class, we concentrate on craft so that your words come alive on the page. Prerequisite: CNF I. 7 weeks @ 2.5 hours each.
Creative Nonfiction Writers Circle—Writers of true stories (essays, features, memoir, etc.) gather to write and read their work and respond to others' work in a safe, supportive environment. 6 sessions @ 2 hrs each.
The Writing Circle for Memoir Writers (Vienna Community Center)—In-class exercises get the ideas flowing; writers are welcome to bring in more developed drafts for further feedback. This class changes focus each term, for example: Special Topics in Memoir—Turning Points, Special Topics in Memoir—The Narrative Question, Special Topics in Memoir—Setting, etc. 6 or 7 weeks @ 2 hours each.
Write, Rinse, Repeat—Techniques for quick and for deep revising help you transform drafts into polished, publishable prose. 6 sessions @ 2 hrs each.
Your Manuscript: The Publishing Process—Concise guidance for authors in readying a manuscript, selecting publishers, developing query letters, assessing offers, choosing a publishing venue, and more. 1 session @ 4 hrs.
FPO: For Publication Only—Writers explore audience, markets, guidelines, and submission formats to increase their chances of having their work accepted for publication. 4 sessions @ 2 hrs each.
Publish Your Business Book—Learn how to get started, which decisions to make before you write a single word, and which publishing process is best for you. 4 sessions @ 2 hrs. each.
Amherst Writers and Artist Workshops (AWA)—Writers in all genres observe five essential affirmations and follow five essential practices so that they are safe to experiment with and grow in their writing. 10 sessions @ 3 hrs each.
The Savvy and Successful Writer—How do you know if the "contract" you've been offered is a sweet deal or a scam? This class presents lessons learned, from writers who've "been there," so you can learn from their experiences. 1 session @ 3 hrs.
Don't see something you'd like to take? Have an idea for a specific kind of class? Need a venue closer to home? Contact me about custom-designing a class to meet you and/or your writing group's needs.
Enjoy our little writing vignettes and sharing in class. Definitely developing my writing voice. Finding there are endless topics to write about in my life. Even some are exciting and interesting! Who would have thought?—Anon
Save